Sale!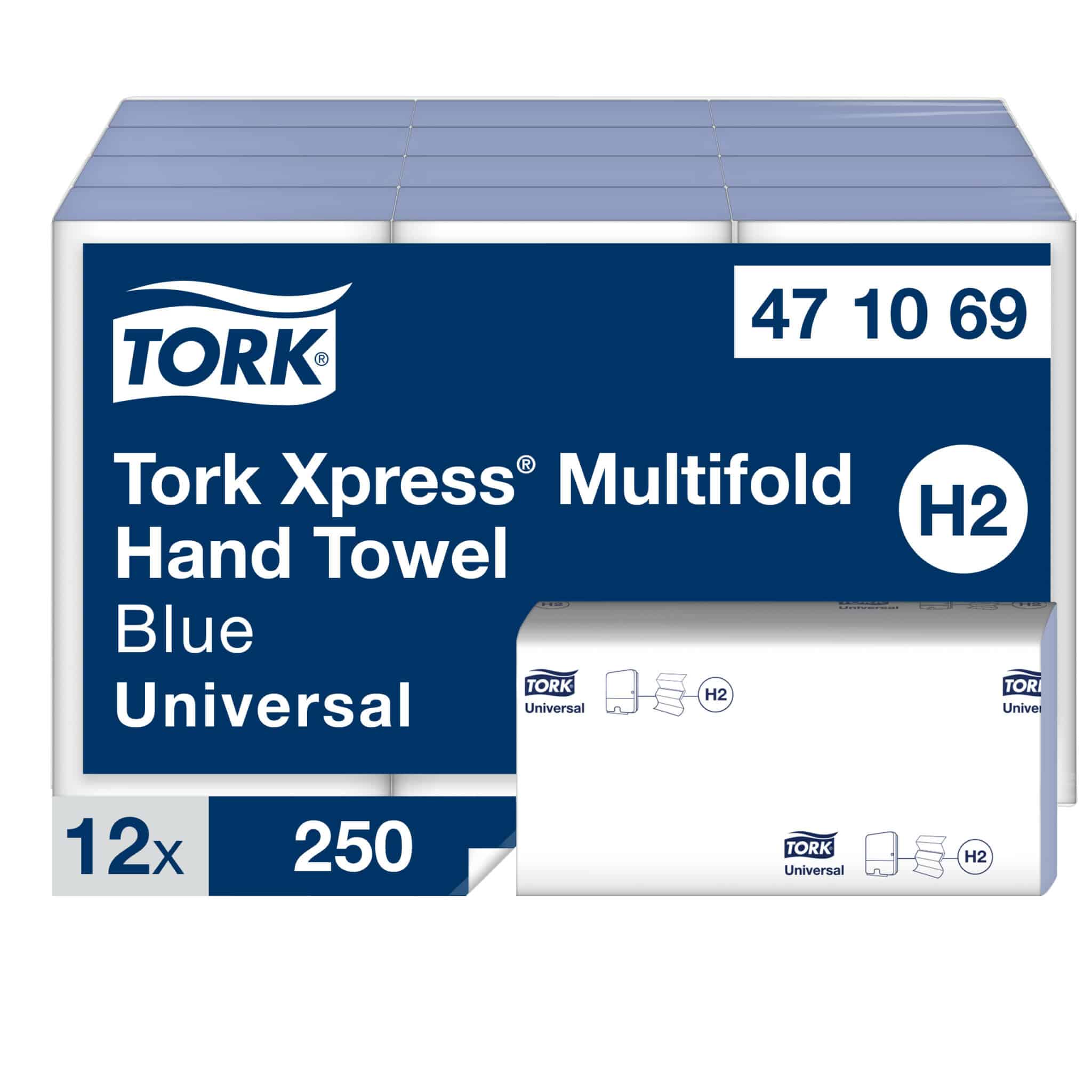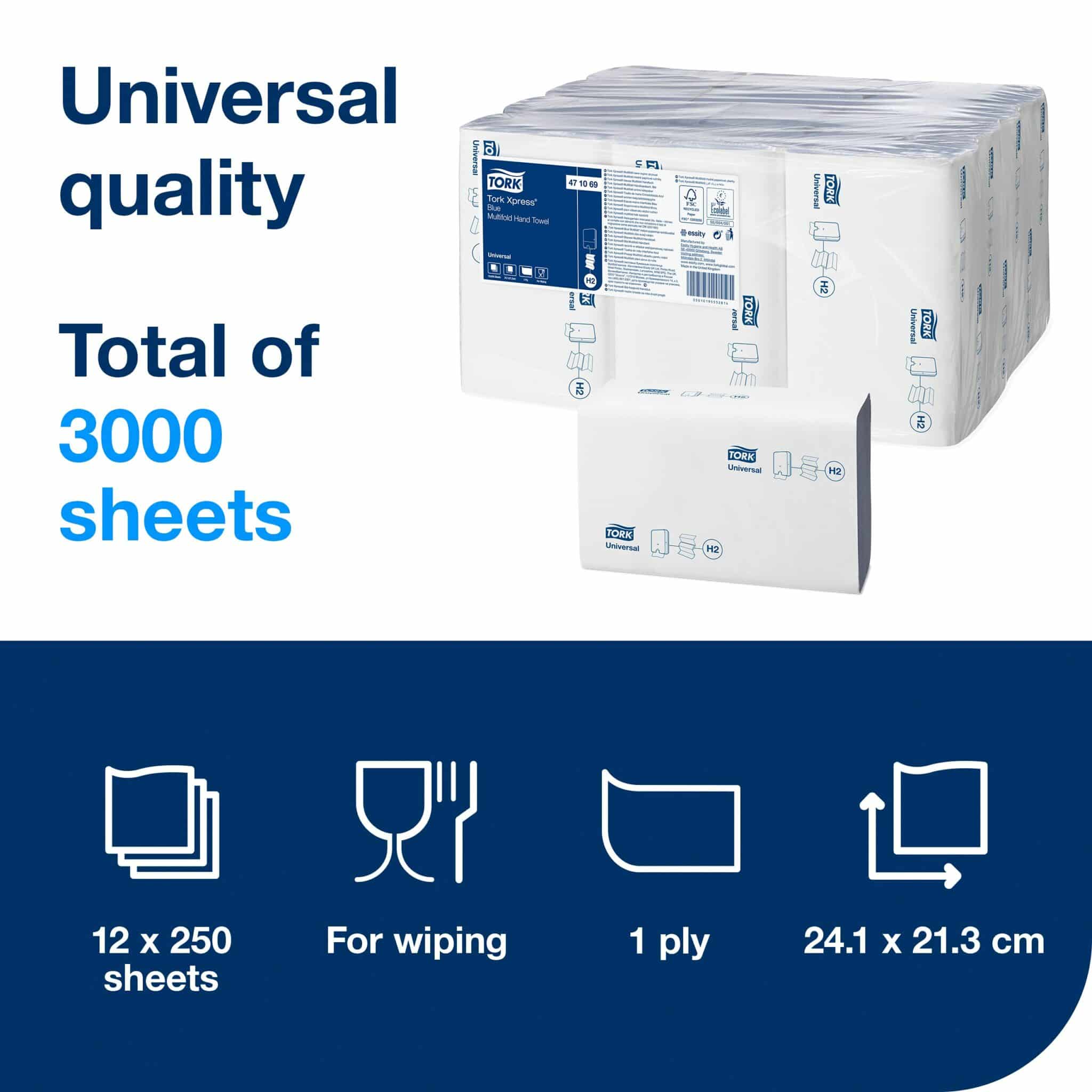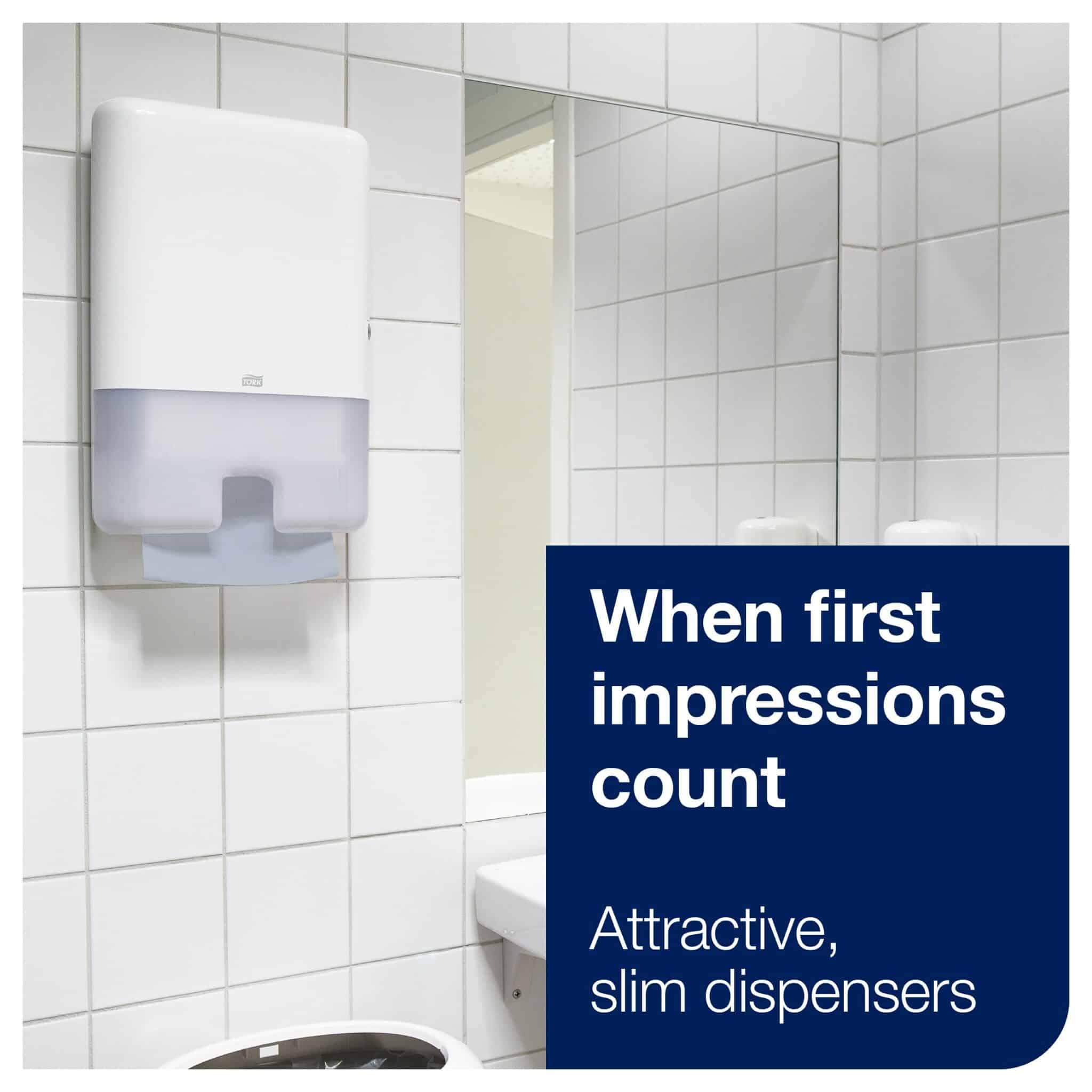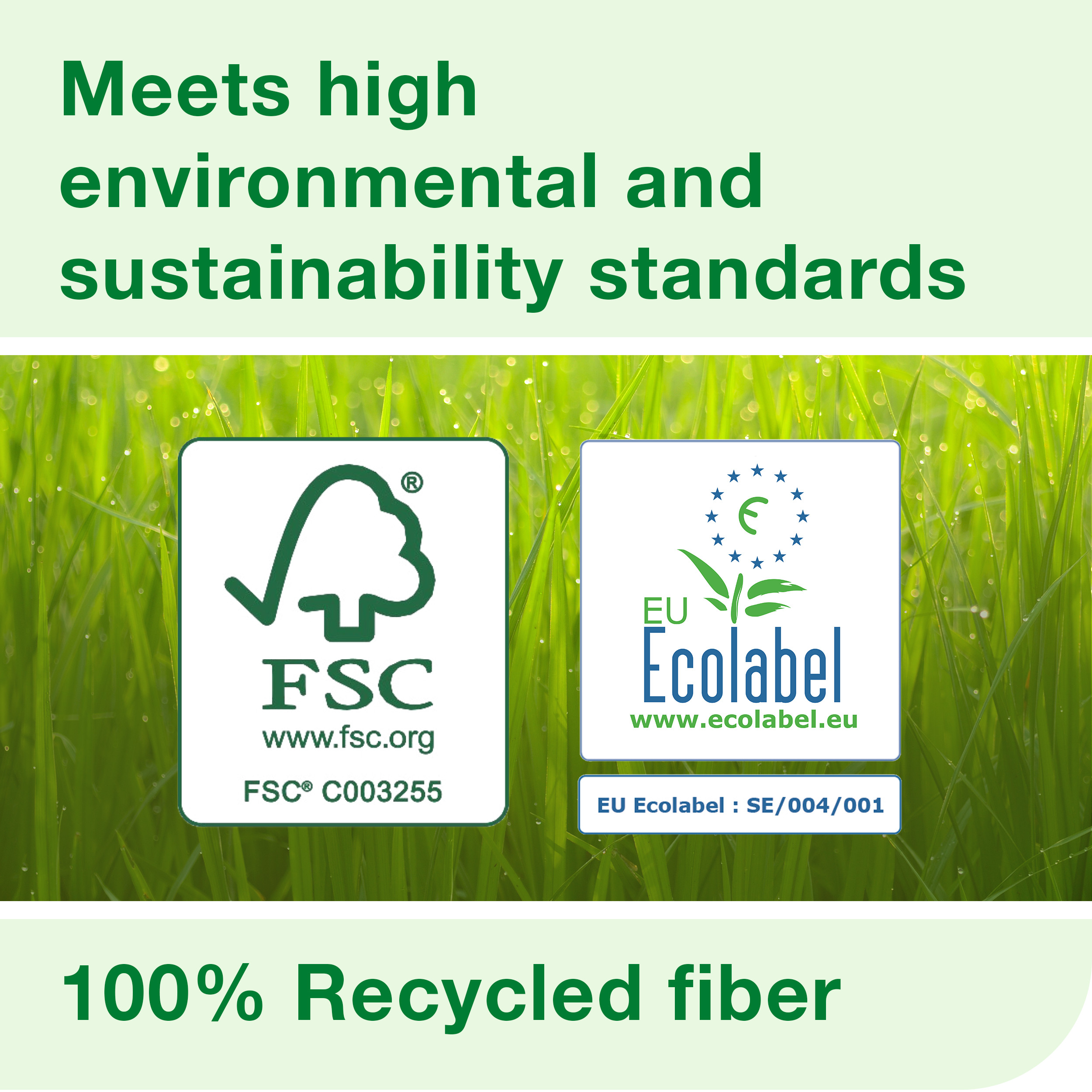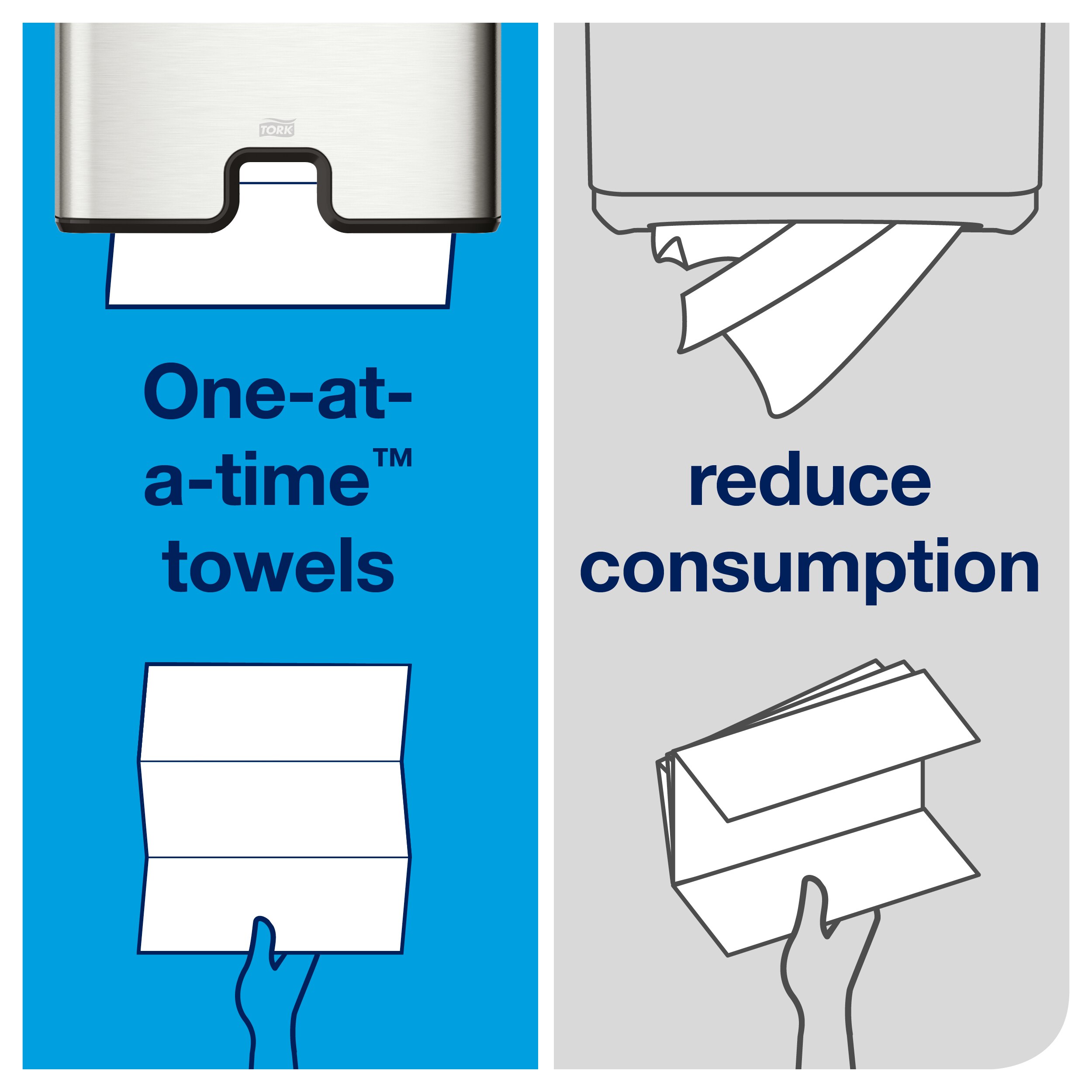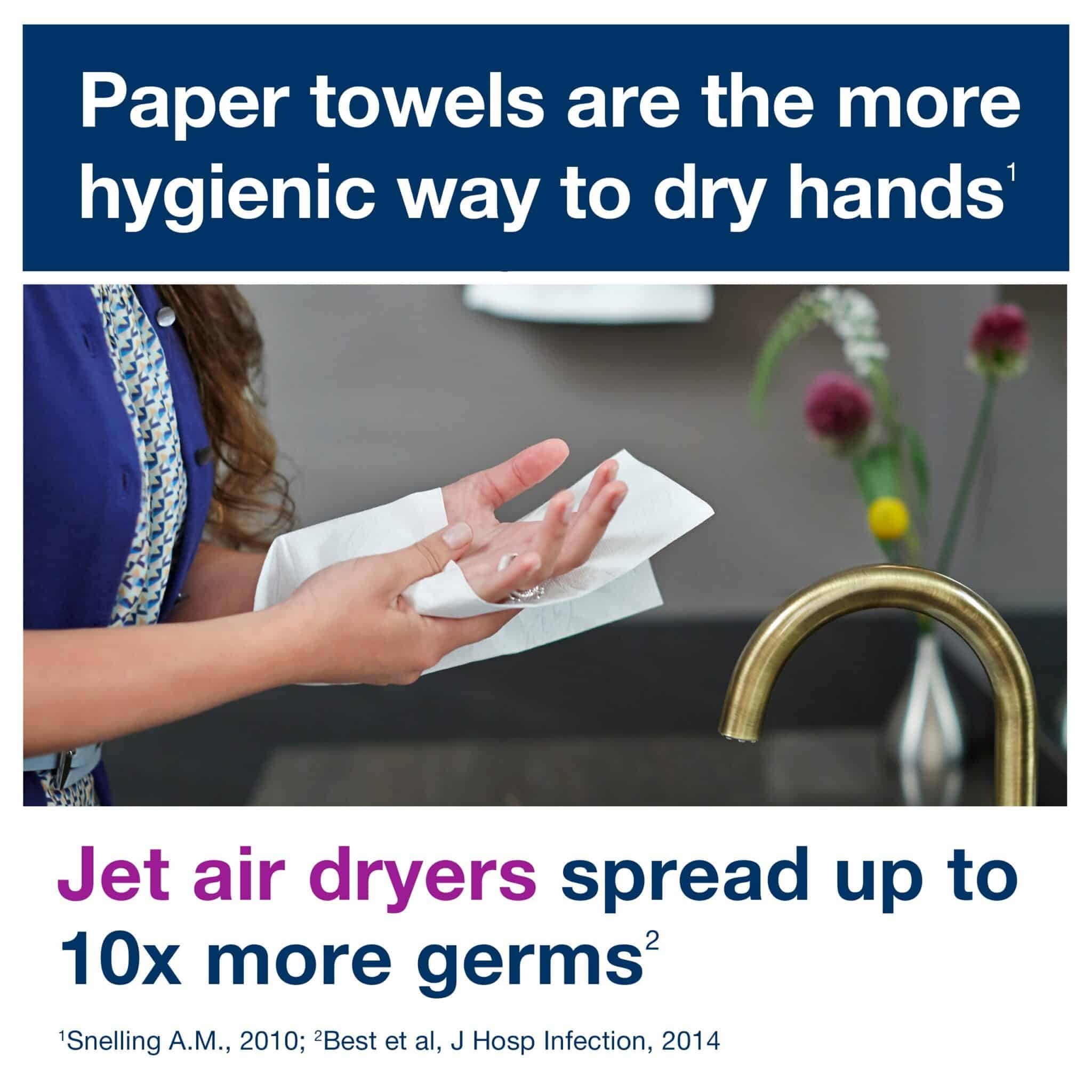 Tork Xpress® Multifold Hand Towels Blue H2, Universal, 1-ply, 100% Recycled Fibres, 12 x 250 Sheets, 471069
12 packs, 250 paper hand towels each. 1 ply. Universal quality. Folded size L 8.1cm W 21.3cm. Unfolded size L 24.1cm W 21.3cm. Compatible with H2 dispensers.
Tork Xpress® Multifold Hand Towels Blue H2:
Commit to better environmental practices with the Tork Xpress®  Multifold Hand Towels. Made from 100% recycled fibres, they carry FSC and EU Ecolabel certifications. The paper hand towels are universal quality for efficient hand-drying and are suitable for short-term contact with food. When used with a Tork Xpress® hand towel dispenser, they reduce waste thanks to one-at-a-time dispensing. They're also our most popular hand towels due to their economic size, easy dispensing and attractive embossing.
Avantages at a glance:
+ Universal quality meets basic requirements + Economical one-at-a-time dispensing + Ideal for medium traffic washrooms + Made from 100% recycled fibres + FSC-certified + EU Ecolabel for a lower environmental impact + Suitable for short-term contact with foodstuffs
Compatible with Tork H2 dispensers.
Suit the needs of low to medium-traffic washrooms with these universal quality, traceable paper towels.
Improve hygiene, thanks to one-a-time dispensing when used with a touch-free Tork Elevation or Image Design dispenser.
Simplify workplace processes, as these efficient multifold towels are easy to dispense and come in an economic size.
Commit to a lower environmental impact with these FSC and EU Ecolabel certified hand towels.
Keywords:
Refill, Paper towels
Weight
467.597 g
System
Product Category
Product Type
Ply
Material/Quality
TRP GTIN
Con GTIN
Embossing

Yes

Environmental Certificate

EU Ecolabel, SE/004/001, Expiry date: 2024-12-31
FSC Recycled credit, SA-COC-008266, Expiry date: 2026-05-29

Country of Orgin
Delivery Times for the Republic Of Ireland:
| Day | Time(after ordering) |
| --- | --- |
| Monday to Friday | Up to 2 days |
| Weekend & Bank Holidays | Up to 3-4 days |
Delivery Costs:
All orders* €50.00 or over (excl VAT) are delivered free. For orders below this, a delivery charge of €6.00 (excl VAT) will be added.
Delivery Times for Europe(Outside of Ireland):
Please note that the customer whose shipping address is outside of Ireland requires to pay extra charges based on the market shipping rates provided by the third-party courier.
Western Hygiene Supplies LTD reserves the right to refuse/cancel any order. Western Hygiene Supplies LTD at its sole discretion may cancel any order(s):
If it suspects a fraudulent transaction, or 
For any reason outside the control of the Western Hygiene Supplies LTD including causes for delivery related logistical difficulties. 
For any refund/cancellation, please contact the customer support number below. Please follow these steps:
Call the number +353-1800 505 555 from Monday to Friday between 10:00 to 17:00.
Quote the order Id to Customer Support .
Customer Support will answer all your queries and explain the whole refund/cancellation process.
For more information, please click here.