Sale!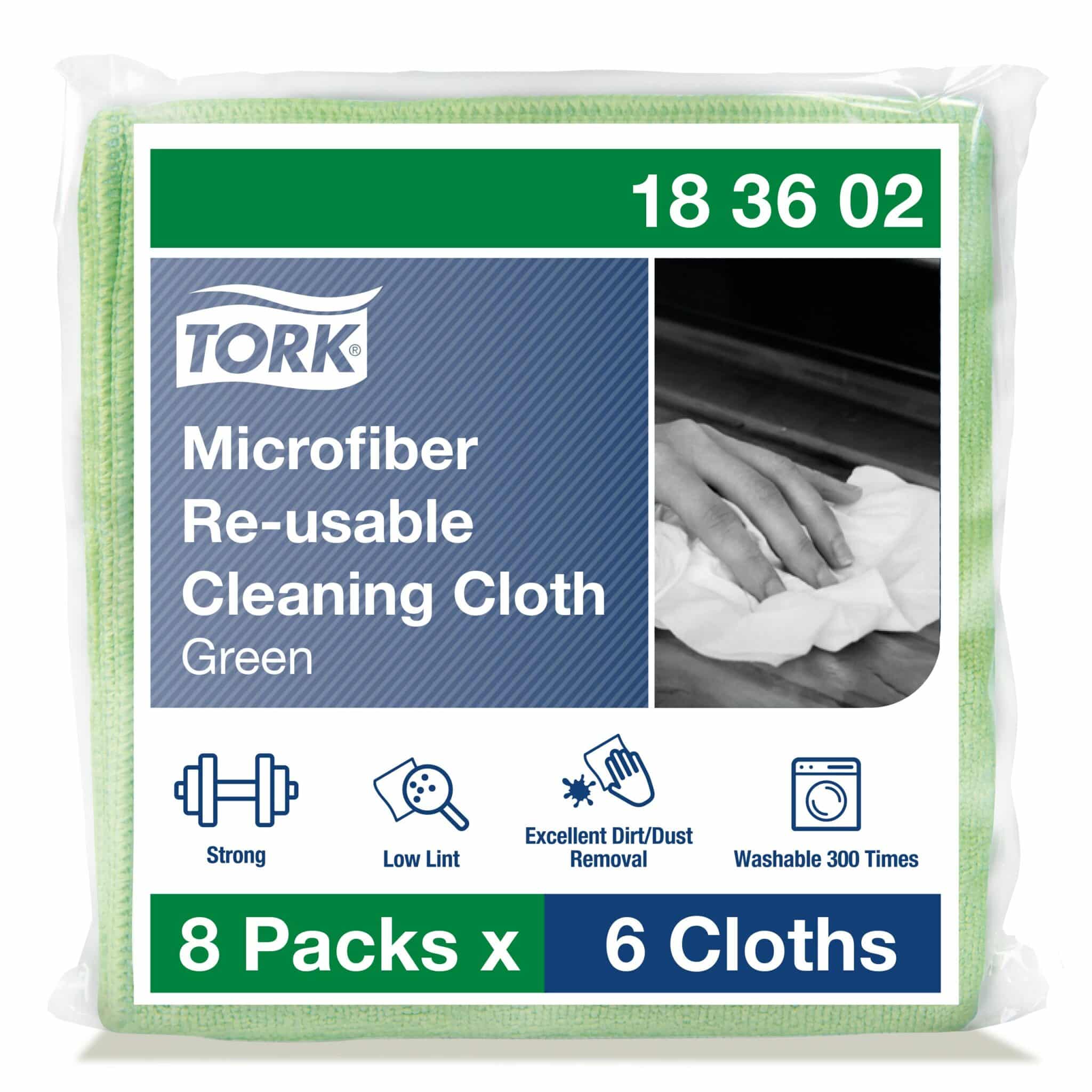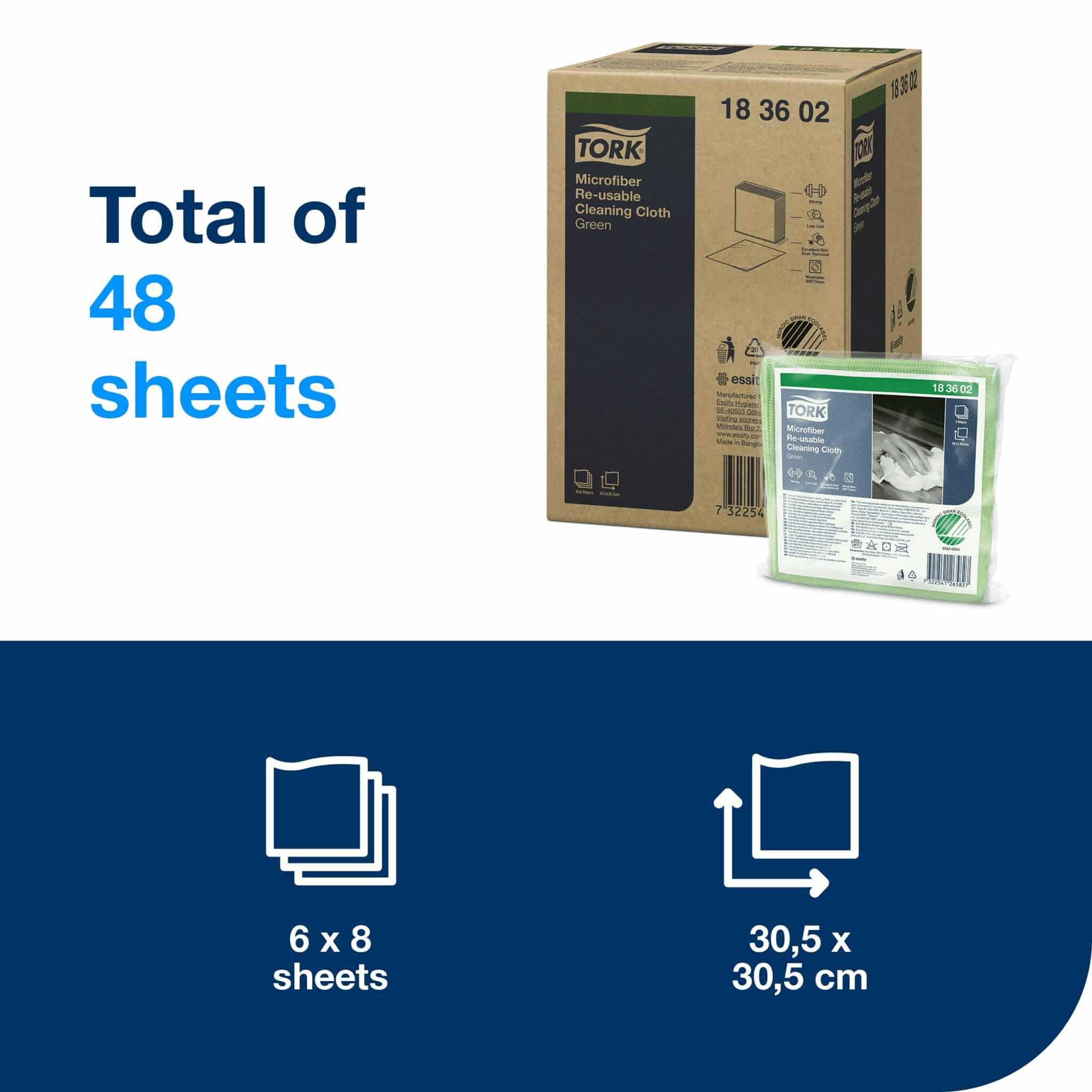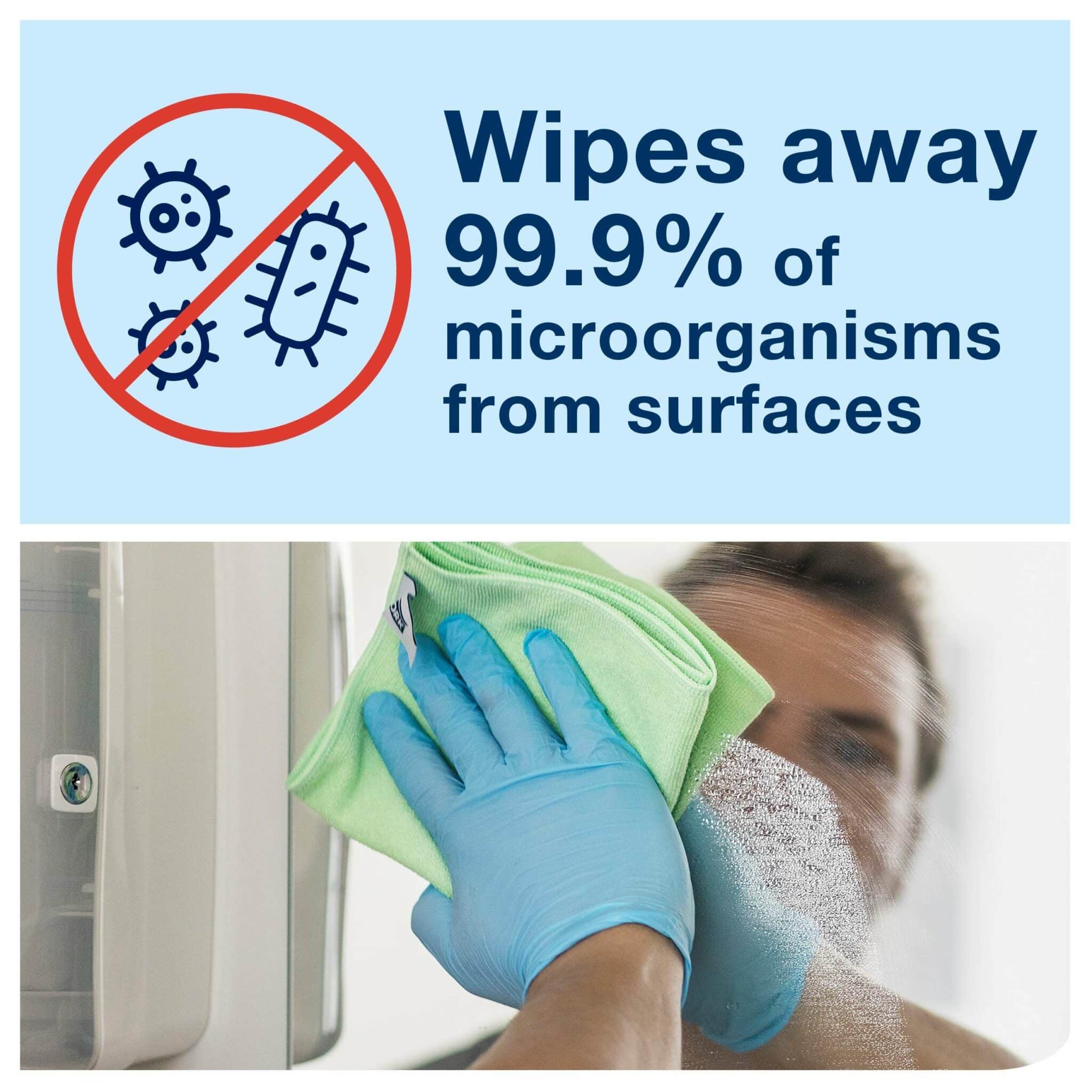 Premium Tork Reusable Microfiber Cleaning Cloth Green- Up to 300 Washes, 8 x 6 cloths, Multi-Color, Best Cleaning, Highly Durable & 99.9% Micro-Organism Wipe, Ideal for All Surfaces
8 packs, 6 cloths each. 1 ply. Folded size L 15cm W 15cm. Unfolded size L 30.5cm W 30.5cm.
Tork Microfiber Cleaning Cloth Green:
Experience an unparalleled level of cleanliness with the Tork Microfiber Cleaning Cloth Green. Designed for both professional and domestic use, this high-quality cloth promises superior cleaning results on all types of hard and smooth surfaces.
Features:
SUPERIOR CLEANING: High-quality microfiber material ensures superior cleaning results on hard and smooth surfaces.
COLOUR CODING: Available in various colours for designated area use, significantly reducing cross-contamination risk.
REUSABLE AND DURABLE: Reinforced edge stitching allows up to 300 washes, making it highly durable and economical.
MICRO-ORGANISM REMOVAL: Capable of wiping away 99.9% of micro-organisms from surfaces, including C.diff*.
WASHABLE: Can be washed with suitable washing powder at 60°C, or at 90°C for a deeper clean.
DIMENSION STABILITY: Experiences less than 3% dimension change after three 90°C washes, maintaining its shape and effectiveness.
VERSATILE USE: Effective when used dry or with cleaning solutions, sanitizers, and disinfectants.
Washing Instructions:
Pre-rinse the microfiber cleaning cloth Green to remove loose debris and dirt.
Wash with suitable washing powder at a normal setting at 60°C for regular cleaning.
For a deeper clean, the cloth can be washed at 90°C as needed.
Do not use fabric softeners or bleach, as these can reduce the effectiveness of the microfiber material.
After washing, air dry the cloth or tumble dry on a low setting. Avoid high heat as it can damage the microfiber material.
Ideal for:
Professional Cleaning Services: Given its high-quality cleaning performance, this cloth is ideal for professional cleaning services.
Domestic Use: From kitchen counters to bathroom tiles, this cloth is perfect for all types of domestic cleaning tasks.
Office Spaces: The Tork Microfiber Cleaning Cloth Green is excellent for maintaining cleanliness and hygiene in office spaces.
Schools and Institutions: With its ability to wipe away 99.9% of micro-organisms from surfaces, it's an excellent choice for schools and other institutions.
Restaurants and Cafes: Its durable and reusable nature makes it a cost-effective solution for maintaining cleanliness in restaurants and cafes.
Automotive Detailing: The microfiber material is safe and effective for use on vehicle interiors and exteriors, making it ideal for automotive detailing.
Is microfiber cloth good for cleaning?
Absolutely! Microfiber cloths effectively attract dust and absorb spills, making them excellent for cleaning various surfaces.
How often should you wash microfiber cloths?
Ideally, wash your microfiber cloths after each use to maintain their cleaning efficiency and prevent bacterial growth.
Is microfiber better than cotton for cleaning?
Yes, microfiber is superior to cotton for cleaning as it can attract and hold more dirt, dust, and liquid.
What are the best microfiber cleaning cloths?
The best microfiber cleaning cloths are those with high GSM (grams per square meter), like the Tork Reusable Microfibre Cleaning Cloth.
[product_additional_information]
Delivery Times for the Republic Of Ireland:
| Day | Time(after ordering) |
| --- | --- |
| Monday to Friday | Up to 2 days |
| Weekend & Bank Holidays | Up to 3-4 days |
Delivery Costs:
All orders* €50.00 or over (excl VAT) are delivered free. For orders below this, a delivery charge of €6.00 (excl VAT) will be added.
Delivery Times for Europe(Outside of Ireland):
Please note that the customer whose shipping address is outside of Ireland requires to pay extra charges based on the market shipping rates provided by the third-party courier.
Western Hygiene Supplies LTD reserves the right to refuse/cancel any order. Western Hygiene Supplies LTD at its sole discretion may cancel any order(s):
If it suspects a fraudulent transaction, or 
For any reason outside the control of the Western Hygiene Supplies LTD including causes for delivery related logistical difficulties. 
For any refund/cancellation, please contact the customer support number below. Please follow these steps:
Call the number +353-1800 505 555 from Monday to Friday between 10:00 to 17:00.
Quote the order Id to Customer Support .
Customer Support will answer all your queries and explain the whole refund/cancellation process.
For more information, please click here.
Frequently Bought Together
This item:
Premium Tork Reusable Microfiber Cleaning Cloth Green- Up to 300 Washes, 8 x 6 cloths, Multi-Color, Best Cleaning, Highly Durable & 99.9% Micro-Organism Wipe, Ideal for All Surfaces