Sale!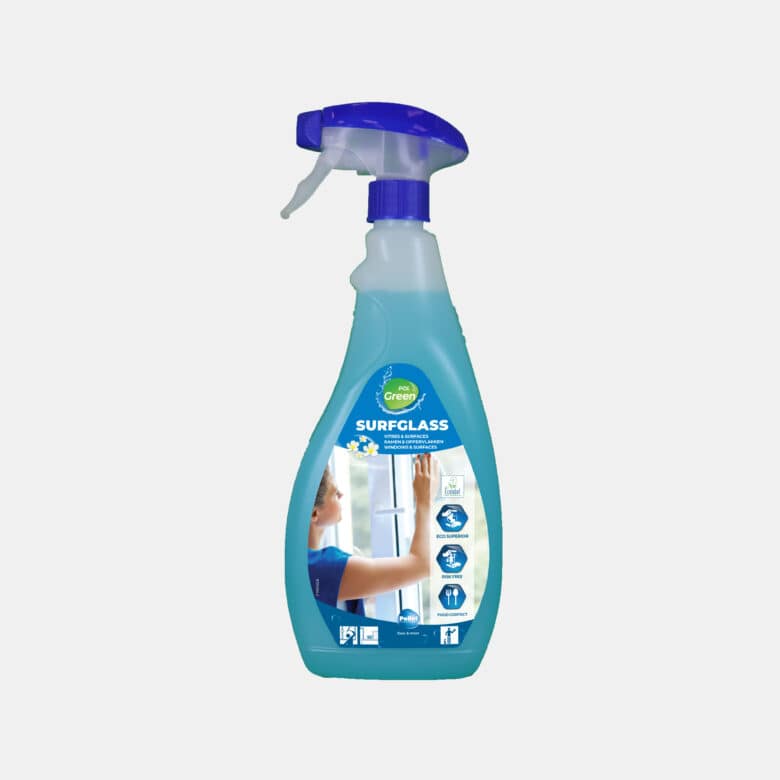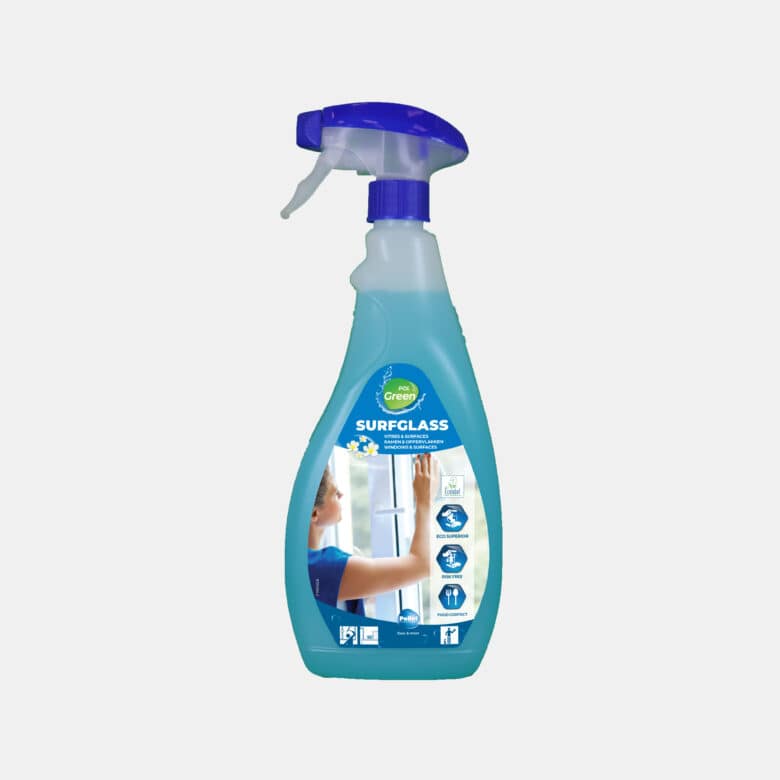 PolGreen Surfglass 6 X 750ml- Achieve Sparkling Clean Surfaces
Ecological detergent with a pleasant scent for cleaning glass and other washable surfaces. PolGreen Surfglass dries quickly and leaves a shine without streaks or reflections. Floral scent.
Crystal Clear Surfaces with PolGreen Surfglass
Experience the ultimate shine and cleanliness with PolGreen Surfglass 6 X 750ml. Our ecological detergent is specially formulated to leave your glass and other washable surfaces spotless and glistening. Say goodbye to streaks and reflections as you enjoy crystal clear windows, mirrors, and tabletops.
Achieve a Streak-Free Shine: PolGreen Surfglass is designed to dry quickly, ensuring a streak-free finish every time. With just a few sprays, watch as the detergent effortlessly removes dirt, grime, and fingerprints, revealing a flawless and reflective surface.
Pleasant and Refreshing Scent: Our Surfglass detergent not only cleans effectively but also leaves behind a delightful floral fragrance. Experience the joy of cleaning with an invigorating scent that lingers in your space, creating a pleasant and refreshing atmosphere.
Eco-Friendly Solution: At Western Hygiene, we prioritize sustainability. PolGreen Surfglass is an ecological detergent that is gentle on the environment. It is formulated using eco-conscious ingredients, making it an excellent choice for those who care about both cleanliness and the planet.
Versatile Cleaning Power for Every Surface
PolGreen Surfglass 6 X 750ml is not limited to glass cleaning alone. Its versatile formulation allows it to tackle various washable surfaces with exceptional effectiveness.
Multipurpose Cleaning: From windows and mirrors to countertops and tabletops, PolGreen Surfglass can be used on a wide range of surfaces. It effortlessly removes smudges, grease, and dirt, leaving behind a flawless finish that enhances the appearance of your entire space.
Ideal for Household and Commercial Use: Whether you want to maintain a sparkling clean home or ensure the utmost cleanliness in your office or commercial establishment, PolGreen Surfglass is the perfect solution. Its powerful cleaning properties and streak-free shine make it a trusted choice for both residential and commercial cleaning needs.
Professional Results Made Easy: You don't have to be a professional cleaner to achieve professional results. With PolGreen Surfglass, you can effortlessly clean and polish surfaces like a pro. Its user-friendly design and effective formulation make it suitable for everyone, from busy homeowners to cleaning professionals.
Western Hygiene - Your Trusted Hygiene Partner
At Western Hygiene, we take pride in being industry leaders in the hygiene and healthcare sector. With our commitment to innovation and cost-effective solutions, we deliver products that meet the highest quality standards. Here's why you should choose us:
Customer Satisfaction Guaranteed: We value our customers' satisfaction above all else. Our team is dedicated to providing exceptional service and ensuring that you have a positive experience with our products. From ordering to delivery, we strive to exceed your expectations.
Trusted by Professionals: Our products are trusted and used by professionals in various sectors, including education, healthcare, hospitality, and manufacturing. When you choose Western Hygiene, you're choosing a brand that is relied upon by industry experts for their cleaning needs.
Quality and Sustainability: We prioritize quality and sustainability in everything we do. Our products, including PolGreen Surfglass, are crafted with the utmost care, using eco-friendly and effective ingredients. You can trust that our solutions are not only efficient but also safe for the environment.
Comprehensive Range of Hygiene Solutions: Western Hygiene offers a wide range of hygiene products and solutions to cater to different needs. Whether it's glass cleaners, sanitizers, or surface disinfectants, we have you covered with products that deliver exceptional results.
Contact Us: Have questions or need assistance? Our friendly customer support team is here to help. Get in touch with us via phone or email, and we'll be happy to provide the information you need to make an informed decision.
Delivery Times for the Republic Of Ireland:
| Day | Time(after ordering) |
| --- | --- |
| Monday to Friday | Up to 2 days |
| Weekend & Bank Holidays | Up to 3-4 days |
Delivery Costs:
All orders* €50.00 or over (excl VAT) are delivered free. For orders below this, a delivery charge of €6.00 (excl VAT) will be added.
Delivery Times for Europe(Outside of Ireland):
Please note that the customer whose shipping address is outside of Ireland requires to pay extra charges based on the market shipping rates provided by the third-party courier.
Western Hygiene Supplies LTD reserves the right to refuse/cancel any order. Western Hygiene Supplies LTD at its sole discretion may cancel any order(s):
If it suspects a fraudulent transaction, or 
For any reason outside the control of the Western Hygiene Supplies LTD including causes for delivery related logistical difficulties. 
For any refund/cancellation, please contact the customer support number below. Please follow these steps:
Call the number +353-1800 505 555 from Monday to Friday between 10:00 to 17:00.
Quote the order Id to Customer Support .
Customer Support will answer all your queries and explain the whole refund/cancellation process.
For more information, please click here.