Sale!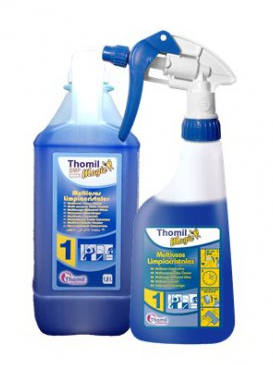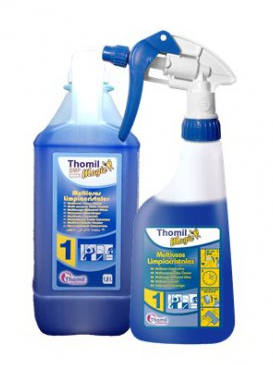 ThomilMagic SMP No1 – Multipurpose Glass Cleaner- CSMP112 – 1,8L Bottle – Box 2 units
Cleans, degreases and polishes in seconds all washable surfaces, glass, tiles, mirrors, Formica, ceramics, chrome, etc. and is ideal for daily cleaning. Workers can use 7 different concentrated products. One single Installation.
Key Properties:
1. Lift the lever lock of dosing dispenser. 2. Place the bottle in the ThomilMagic SMP dispenser and lower the lever lock. 3. Press the dilution button for CUBES or the dilution button for BOTTLES , as necessary, until the container is filled. The exact dilution between the concentrated product and water is carried out automatically thanks to the pre-calibrated meting tips incorporated inside the plastic bottle. 4. Close the container with the trigger and shake smoothly. 5. Pulverize the product directly on the surface to be cleaned at a distance of about 25 cm. 6. Let the product act for a few seconds. 7. In case of delicate surfaces or access to electronic circuits, apply with a cloth. 8. Clean the surface and dry until getting the desired brightness.
User Instructions:
NA
Preservation and Storage:
Keep in its original package tightly closed, protecting it from cold and intense heat. Avoid freezing. Do not expose to direct sunlight.
[product_additional_information]
Delivery Times for the Republic Of Ireland:
| Day | Time(after ordering) |
| --- | --- |
| Monday to Friday | Up to 2 days |
| Weekend & Bank Holidays | Up to 3-4 days |
Delivery Costs:
All orders* €50.00 or over (excl VAT) are delivered free. For orders below this, a delivery charge of €6.00 (excl VAT) will be added.
Delivery Times for Europe(Outside of Ireland):
Please note that the customer whose shipping address is outside of Ireland requires to pay extra charges based on the market shipping rates provided by the third-party courier.
Western Hygiene Supplies LTD reserves the right to refuse/cancel any order. Western Hygiene Supplies LTD at its sole discretion may cancel any order(s):
If it suspects a fraudulent transaction, or 
For any reason outside the control of the Western Hygiene Supplies LTD including causes for delivery related logistical difficulties. 
For any refund/cancellation, please contact the customer support number below. Please follow these steps:
Call the number +353-1800 505 555 from Monday to Friday between 10:00 to 17:00.
Quote the order Id to Customer Support .
Customer Support will answer all your queries and explain the whole refund/cancellation process.
For more information, please click here.