Sale!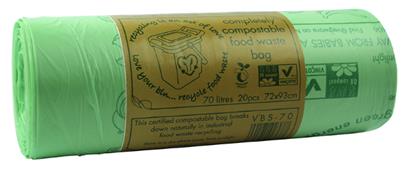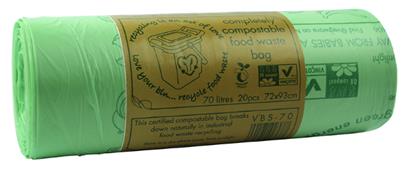 100L Compostable Refuse Sacks (10×10 Pack) – Eco-Friendly, Durable, Large Capacity Compost Bin Bags for Home, Office & Restaurants
100 Refuse sacks (26 x 44 x 120) Gauge Compostable. Eco-friendly and sustainable materials.
100L Compostable Refuse Sacks
Ideal eco-friendly solution for all your waste management needs. These large-capacity sacks are made from sustainable materials designed to break down naturally over time, making them perfect for anyone looking to reduce their environmental impact. Whether at home, in the office, or in a commercial setting, these compostable sacks offer a convenient and responsible way to dispose of your waste.
5 Benefits:
Eco-Friendly: Made from sustainable materials, these compostable sacks help minimize your carbon footprint and reduce the environmental impact of waste disposal.
Large Capacity: With a 100L capacity, these compostable sacks can hold a substantial amount of waste, minimizing the need for frequent changes.
Durable & Strong: Crafted from high-quality materials, these refuse sacks can handle heavy and bulky waste without tearing or breaking.
Convenient Pack Size: The 10x10 pack size ensures you always have a compostable solution on hand, making it easy to store and access the sacks as needed.
Versatile Use: Suitable for various settings, including homes, offices, schools, restaurants, and more, these compostable sacks are perfect for all your waste management needs.
Pros & Cons:
Eco-friendly and sustainable materials
Large 100L capacity
Durable and strong for heavy waste
Convenient 10x10 pack size
Versatile use across various settings
Not suitable for non-compostable waste
What Customers Will Get: When you purchase our 100L Compostable Refuse Sacks, you will receive:
1 x Pack of 10x10 Compostable Refuse Sacks (100 total), each with a 100L capacity
How to Use Instructions:
Choose a suitable compost bin or container for your waste management needs.
Open one of the compostable refuse sacks and place it inside the bin, ensuring that it fits securely and covers the entire interior.
Dispose of compostable waste into the sack as needed, taking care not to mix with non-compostable waste.
When the sack is full, securely tie or seal the top to prevent spillage during transport.
Dispose of the full sack in a designated composting area or facility according to local regulations.
Replace the used sack with a new one from the 10x10 pack to continue your eco-friendly waste management practices.
Choose our 100L Compostable Refuse Sacks for a convenient, responsible, and eco-friendly waste management solution. Order your pack today and make a positive impact on the environment!
| | |
| --- | --- |
| Dimensions | 26 × 44 × 120 mm |
Delivery Times for the Republic Of Ireland:
| Day | Time(after ordering) |
| --- | --- |
| Monday to Friday | Up to 2 days |
| Weekend & Bank Holidays | Up to 3-4 days |
Delivery Costs:
All orders* €50.00 or over (excl VAT) are delivered free. For orders below this, a delivery charge of €6.00 (excl VAT) will be added.
Delivery Times for Europe(Outside of Ireland):
Please note that the customer whose shipping address is outside of Ireland requires to pay extra charges based on the market shipping rates provided by the third-party courier.
Western Hygiene Supplies LTD reserves the right to refuse/cancel any order. Western Hygiene Supplies LTD at its sole discretion may cancel any order(s):
If it suspects a fraudulent transaction, or 
For any reason outside the control of the Western Hygiene Supplies LTD including causes for delivery related logistical difficulties. 
For any refund/cancellation, please contact the customer support number below. Please follow these steps:
Call the number +353-1800 505 555 from Monday to Friday between 10:00 to 17:00.
Quote the order Id to Customer Support .
Customer Support will answer all your queries and explain the whole refund/cancellation process.
For more information, please click here.
Frequently Bought Together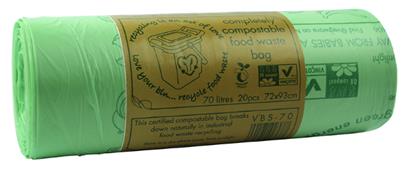 This item:
100L Compostable Refuse Sacks (10x10 Pack) - Eco-Friendly, Durable, Large Capacity Compost Bin Bags for Home, Office & Restaurants