Sale!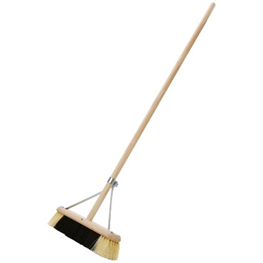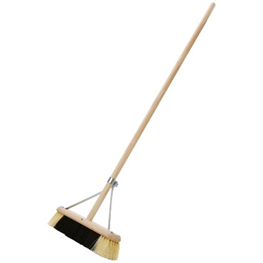 24″ Sweeping Brush/Pine Handle & Stays x1
• Plain wooden pine broom handle • Varnish finish • Stabilizing brackets attached • Bassline brush head • 610 mm (24") brush head
Upgrade your cleaning tools with our 24" Sweeping Brush & Pine Handle. The broom features a sturdy wooden handle and a durable bassline brush head, making it ideal for sweeping up debris in various environments. Benefits:
Durable and Long-lasting: The sturdy pine handle is varnished to ensure long-lasting durability, making it perfect for everyday use.
Efficient Cleaning: The 24" brush head allows you to sweep up large areas of debris quickly and efficiently.
Multi-Purpose Use: The brush is suitable for both indoor and outdoor use, making it a versatile cleaning tool.
Easy to Store: The brush can be hung up by its handle for easy storage, keeping your space tidy and clutter-free.
Cost-Effective: Our 24" Sweeping Brush & Pine Handle is an affordable and reliable option for all your sweeping needs.
[product_additional_information]
Delivery Times for the Republic Of Ireland:
| Day | Time(after ordering) |
| --- | --- |
| Monday to Friday | Up to 2 days |
| Weekend & Bank Holidays | Up to 3-4 days |
Delivery Costs:
All orders* €50.00 or over (excl VAT) are delivered free. For orders below this, a delivery charge of €6.00 (excl VAT) will be added.
Delivery Times for Europe(Outside of Ireland):
Please note that the customer whose shipping address is outside of Ireland requires to pay extra charges based on the market shipping rates provided by the third-party courier.
Western Hygiene Supplies LTD reserves the right to refuse/cancel any order. Western Hygiene Supplies LTD at its sole discretion may cancel any order(s):
If it suspects a fraudulent transaction, or 
For any reason outside the control of the Western Hygiene Supplies LTD including causes for delivery related logistical difficulties. 
For any refund/cancellation, please contact the customer support number below. Please follow these steps:
Call the number +353-1800 505 555 from Monday to Friday between 10:00 to 17:00.
Quote the order Id to Customer Support .
Customer Support will answer all your queries and explain the whole refund/cancellation process.
For more information, please click here.