Sale!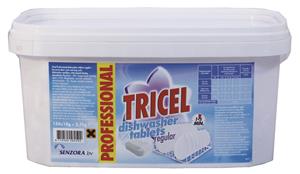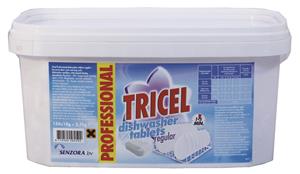 Tricel All-In-1 Dishwasher Tablets x 150: Powerful Cleaning for Sparkling Dishes
Experience effortless dishwashing with Tricel All-In-1 Dishwasher Tablets. Our high-powered, all-in-one tablets provide superior cleaning performance for sparkling dishes, while the built-in glass protection ensures your glassware remains flawless. Discover the convenience, quality, and economy of our ready-to-use tablets today.
Powerful Cleaning Performance for Sparkling Dishes
At Tricel, we understand the importance of spotless, gleaming dishes, and that's why we're proud to introduce our high-powered dishwasher tablets. Designed for use in most domestic dishwashers and small commercial machines, these all-in-one tablets offer a convenient and effective solution for your dishwashing needs. With their advanced formula, our dishwasher tablets are specially crafted to tackle stubborn stains, grease, and food residue, leaving your crockery, cutlery, and glassware looking immaculate. Say goodbye to endless scrubbing and hello to effortless cleaning.
Unmatched Convenience and Protection
We believe in making your life easier, which is why our all-in-one dishwasher tablets are the perfect choice for busy households and small businesses alike. Our tablets are designed to provide superior performance while being incredibly convenient to use. Thanks to the built-in glass protection feature, you can trust that your delicate glassware will remain crystal clear and free from scratches or cloudiness. Enjoy the peace of mind knowing that your favorite wine glasses and fragile dinnerware are in safe hands.
Quality, Economy, and Versatility
At Tricel, we prioritize delivering high-quality products that offer great value for your money. Our dishwasher tablets are formulated to work effectively in both hard and soft water, ensuring consistent performance regardless of your water type. This versatility makes them a reliable choice for households across the country. With our ready-to-use tablets, you can say goodbye to messy powders or liquids. Each tablet is conveniently pre-measured, making it quick and effortless to load your dishwasher. The tablets come in a handy storage bucket, keeping them organized and easily accessible whenever you need them.
Delivery Times for the Republic Of Ireland:
| Day | Time(after ordering) |
| --- | --- |
| Monday to Friday | Up to 2 days |
| Weekend & Bank Holidays | Up to 3-4 days |
Delivery Costs:
All orders* €50.00 or over (excl VAT) are delivered free. For orders below this, a delivery charge of €6.00 (excl VAT) will be added.
Delivery Times for Europe(Outside of Ireland):
Please note that the customer whose shipping address is outside of Ireland requires to pay extra charges based on the market shipping rates provided by the third-party courier.
Western Hygiene Supplies LTD reserves the right to refuse/cancel any order. Western Hygiene Supplies LTD at its sole discretion may cancel any order(s):
If it suspects a fraudulent transaction, or 
For any reason outside the control of the Western Hygiene Supplies LTD including causes for delivery related logistical difficulties. 
For any refund/cancellation, please contact the customer support number below. Please follow these steps:
Call the number +353-1800 505 555 from Monday to Friday between 10:00 to 17:00.
Quote the order Id to Customer Support .
Customer Support will answer all your queries and explain the whole refund/cancellation process.
For more information, please click here.