Sale!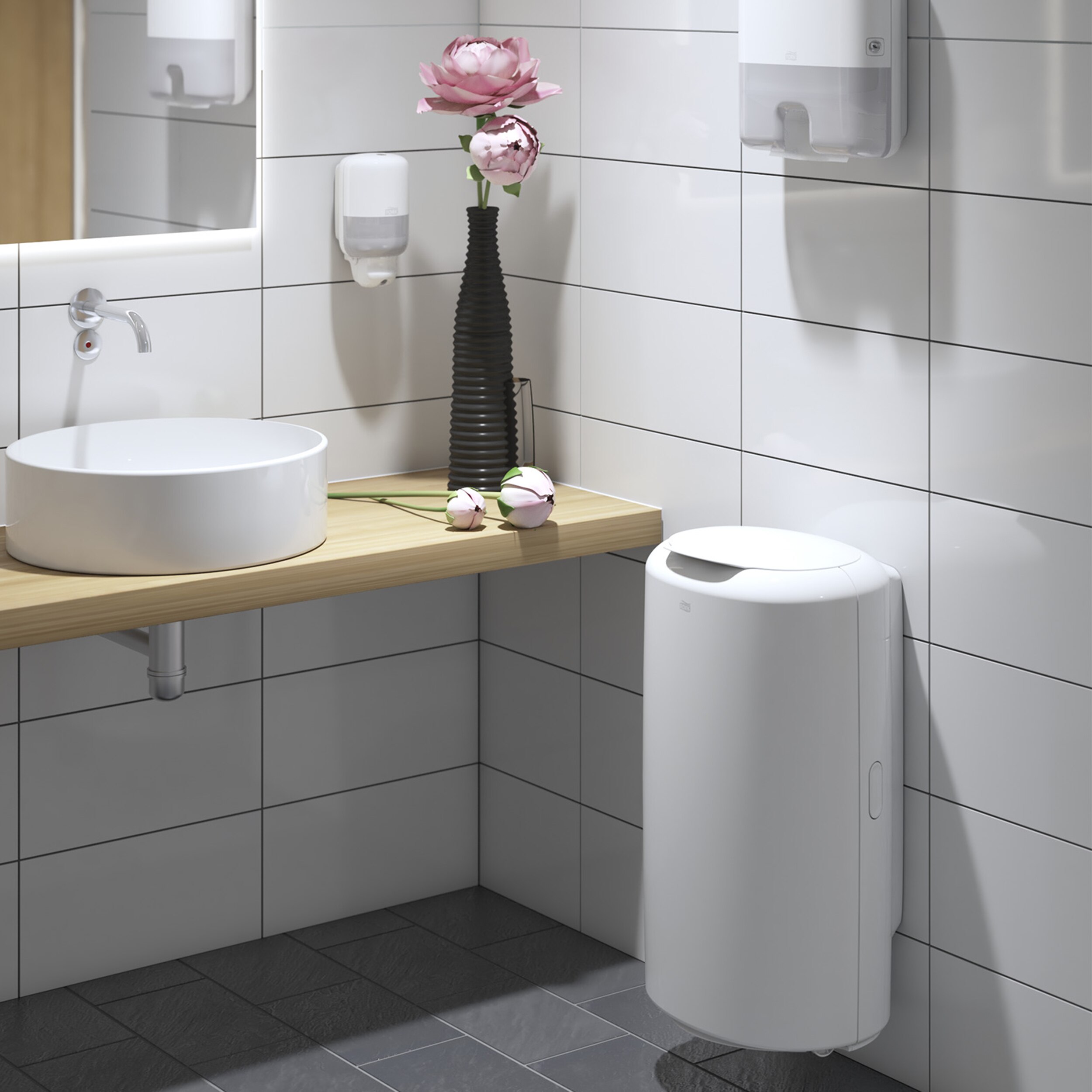 Tork 50L Bathroom Bin White B1 – Space-Saving, Flexible Mounting & Hygienic Design
Upgrade your washroom with the Tork 50L Bathroom Bin White B1, offering space-saving design, flexible mounting, and enhanced hygiene. Shop now!
Maximize space and functionality in your washroom with our 50L Bathroom Bin White B1.
This sleek and modern bin features flexible mounting options and a concealed bin liner, ensuring a clean and tidy appearance. Upgrade to our optional soft-close lid to enhance safety and hygiene, leaving a lasting positive impression on your guests.
5 Benefits:
Space-Saving: The Tork 50L Bathroom Bin's compact design maximizes space in your washroom, making it an excellent choice for smaller areas.
Flexible Mounting Options: This bathroom bin can be mounted to either the wall or floor, ensuring it fits seamlessly into any washroom layout.
Concealed Bin Liner: The hidden bin liner provides a neat and tidy finish, maintaining a clean appearance in your washroom.
Optional Soft-Close Lid: Enhance safety and hygiene with the addition of the soft-close lid, ensuring a quiet and gentle closing of the bin.
Easy to Maintain: The Tork 50L Bathroom Bin White B1 is simple to clean and maintain, keeping your washroom looking fresh and inviting.
Pros & Cons:
Space-saving design
Flexible mounting options for wall or floor
Concealed bin liner for a clean appearance
Optional soft-close lid for added hygiene and safety
Easy to maintain and clean
Soft-close lid not included as standard
What Customers Will Get: When you purchase the Tork 50L Bathroom Bin White B1, you will receive:
1 x Tork 50L Bathroom Bin White B1
Optional soft-close lid available for purchase separately.
How to Use Instructions:
Choose a suitable location for the Tork 50L Bathroom Bin White B1 in your washroom, ensuring easy access for waste disposal.
Select your preferred mounting option (wall or floor) and securely install the bathroom bin according to the included instructions.
Insert a bin liner into the bathroom bin and ensure it's concealed for a neat finish.
If using the optional soft-close lid, attach it to the bathroom bin as per the instructions.
Dispose of waste in the bin as needed, and replace the bin liner when full.
Upgrade your washroom experience with the Tork 50L Bathroom Bin White B1, the perfect combination of style, functionality, and hygiene. Order yours today!
| | |
| --- | --- |
| Weight | 5205 g |
| System | |
| Product Category | |
| Product Type | |
| Ply | |
| Model | |
| Material/Quality | |
| TRP GTIN | |
| Con GTIN | |
| Embossing | No |
| Environmental Certificate | NA |
| Country of Orgin | |
Delivery Times for the Republic Of Ireland:
| Day | Time(after ordering) |
| --- | --- |
| Monday to Friday | Up to 2 days |
| Weekend & Bank Holidays | Up to 3-4 days |
Delivery Costs:
All orders* €50.00 or over (excl VAT) are delivered free. For orders below this, a delivery charge of €6.00 (excl VAT) will be added.
Delivery Times for Europe(Outside of Ireland):
Please note that the customer whose shipping address is outside of Ireland requires to pay extra charges based on the market shipping rates provided by the third-party courier.
Western Hygiene Supplies LTD reserves the right to refuse/cancel any order. Western Hygiene Supplies LTD at its sole discretion may cancel any order(s):
If it suspects a fraudulent transaction, or 
For any reason outside the control of the Western Hygiene Supplies LTD including causes for delivery related logistical difficulties. 
For any refund/cancellation, please contact the customer support number below. Please follow these steps:
Call the number +353-1800 505 555 from Monday to Friday between 10:00 to 17:00.
Quote the order Id to Customer Support .
Customer Support will answer all your queries and explain the whole refund/cancellation process.
For more information, please click here.