Sale!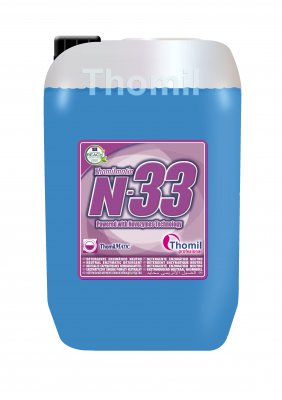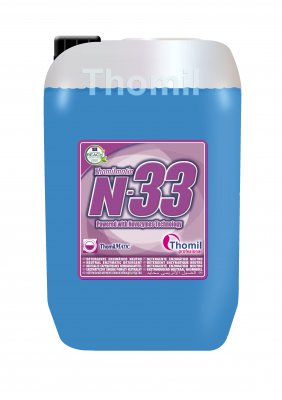 Thomilmatic N-33 Neutral Laundry Detergent- LPDL056 – 20kg. Container – 1 unit
Laundry Detergent: Biological detergent with neutral pH and low alkalinity for the prewash and main wash of clothes. With a new and more effective component containing five groups of enzymes helping to reduce the number of rewashes, water consumption, temperatures and washing times, as well as to improve the fabric maintenance.
Introducing Thomilmatic N-33 Neutral Laundry Detergent
Elevate your laundry experience with Thomilmatic N-33 Neutral Laundry Detergent. This 20kg container is packed with an enzymatic prewash and main wash neutral liquid component, perfect for professional laundry use. Compatible with manual application or automatic dosing pump systems, this detergent is designed to handle various levels of dirt on your clothes.
5 Incredible Benefits
Effective Enzymatic Formula: Specially designed to break down stains and dirt with ease for superior cleaning results.
Neutral pH Balance: Safe for use on a wide range of fabrics and colors without causing damage or fading.
Versatile Application: Can be used for prewash and main wash cycles, providing comprehensive cleaning.
Automatic Dosing Pump Compatible: Designed for use with manual or automatic dosing systems for added convenience.
Economical 20kg Container: Generous size ensures long-lasting use, making it a cost-effective choice for professional laundry needs.
Pros:
Powerful enzymatic cleaning formula
Neutral pH balance suitable for various fabrics
Versatile application for both prewash and main wash cycles
Compatible with automatic dosing systems
Large 20kg container for extended use
Cons:
May not be suitable for home use due to its size and professional-grade formulation
Safety Precautions
Keep out of reach of children.
Store the product in its original package, tightly closed, and protected from extreme temperatures and direct sunlight.
Follow the recommended dosages to avoid overuse and potential damage to fabrics.
5 Frequently Asked Questions
Can I use Thomilmatic N-33 Neutral Laundry Detergent for delicate fabrics? The neutral pH balance makes it suitable for most fabrics; however, it is recommended to test on a small, inconspicuous area before using on delicate fabrics.
Is this detergent suitable for both white and colored clothes? Yes, the neutral pH balance ensures that Thomilmatic N-33 is safe for use on both white and colored clothes without causing fading or damage.
Can I use this detergent in a high-efficiency (HE) washing machine? Yes, Thomilmatic N-33 Neutral Laundry Detergent is compatible with both regular and high-efficiency washing machines.
Does this detergent contain any fragrances or dyes? Thomilmatic N-33 Neutral Laundry Detergent focuses on its powerful enzymatic cleaning formula and does not contain added fragrances or dyes.
How long does a 20kg container of Thomilmatic N-33 last? The longevity of the product depends on usage frequency and the amount used per wash cycle. However, the generous 20kg size is designed for extended use in professional laundry settings.
[product_additional_information]
Delivery Times for the Republic Of Ireland:
| Day | Time(after ordering) |
| --- | --- |
| Monday to Friday | Up to 2 days |
| Weekend & Bank Holidays | Up to 3-4 days |
Delivery Costs:
All orders* €50.00 or over (excl VAT) are delivered free. For orders below this, a delivery charge of €6.00 (excl VAT) will be added.
Delivery Times for Europe(Outside of Ireland):
Please note that the customer whose shipping address is outside of Ireland requires to pay extra charges based on the market shipping rates provided by the third-party courier.
Western Hygiene Supplies LTD reserves the right to refuse/cancel any order. Western Hygiene Supplies LTD at its sole discretion may cancel any order(s):
If it suspects a fraudulent transaction, or 
For any reason outside the control of the Western Hygiene Supplies LTD including causes for delivery related logistical difficulties. 
For any refund/cancellation, please contact the customer support number below. Please follow these steps:
Call the number +353-1800 505 555 from Monday to Friday between 10:00 to 17:00.
Quote the order Id to Customer Support .
Customer Support will answer all your queries and explain the whole refund/cancellation process.
For more information, please click here.