Sale!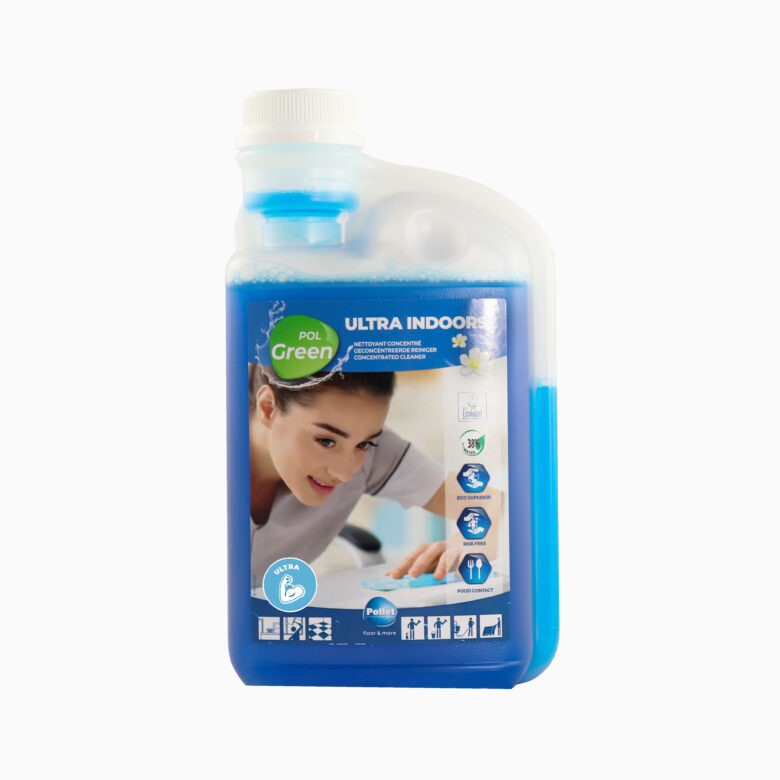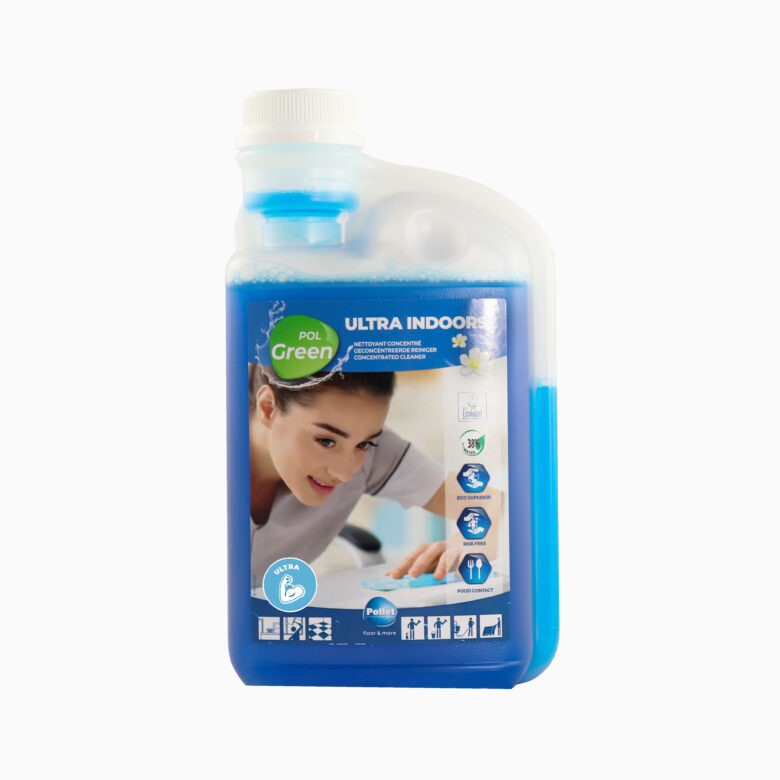 PolGreen Ultra Indoors 6 x 1 L- Multi-Surface Cleaner (Stain Remover from Laminated Surfaces)
Experience the power of PolGreen Ultra Indoors, the eco-friendly multi-surface cleaner. Remove stubborn stains, enjoy a floral fragrance, and make cleaning a breeze. Discover the perfect solution for your daily maintenance needs at Western Hygiene. For the daily maintenance of all surfaces and floors. Removes stains (ink stains and others) from laminated surfaces, washable and enameled paints, phones, screens, furniture, switches. Floral scent.
 Ultra-Concentrated Ecological Cleaner for Daily Maintenance
Keep Your Surfaces and Floors Pristine with PolGreen Ultra Indoors
Restore Brilliance to Your Home and Workspace Are you tired of stubborn stains and dirt marring the beauty of your surfaces and floors? Look no further than PolGreen Ultra Indoors, the ultimate solution for your daily maintenance needs. Our ultra-concentrated ecological cleaner is specially formulated to deliver exceptional results, leaving your surroundings spotless and gleaming.
The Power of Eco-Friendly Cleaning
At Western Hygiene, we take pride in offering eco-friendly cleaning solutions that are gentle on the environment without compromising on performance. PolGreen Ultra Indoors is meticulously crafted using sustainable ingredients, ensuring a safer and greener cleaning experience for you and your loved ones. Say goodbye to harsh chemicals and embrace a cleaner that cares.
Eliminate Stubborn Stains and Restore Surfaces
Unleash the Cleaning Magic of PolGreen Ultra Indoors
Safely Remove Stains and Spots PolGreen Ultra Indoors is a versatile cleaner designed to tackle even the toughest stains. From ink stains to everyday spills, our powerful formula penetrates deep into laminated surfaces, washable and enameled paints, phones, screens, furniture, and switches, eradicating unsightly marks and leaving behind a flawless finish.
Effortless Cleaning, Impeccable Results
Experience the joy of effortless cleaning with PolGreen Ultra Indoors. Its exceptional cleaning power combined with its user-friendly application ensures that maintaining your surfaces and floors is a breeze. Simply apply the cleaner, wipe away the grime, and revel in the restored beauty of your surroundings.
The Scent of Freshness and Convenience
Indulge Your Senses with a Floral Fragrance
Transform Your Cleaning Routine into an Invigorating Experience Who says cleaning can't be enjoyable? PolGreen Ultra Indoors features a delightful floral scent that infuses your spaces with freshness and vitality. Each cleaning session becomes an aromatic journey, elevating your mood and leaving a lasting impression. Embrace the pleasure of a clean and fragrant environment with every use.
Convenience at Your Fingertips
With PolGreen Ultra Indoors, convenience is key. Its user-friendly design and compact packaging make it easy to handle and store. Whether you're a professional cleaner or a busy homeowner, our multi-surface cleaner is your reliable companion for efficient and effective cleaning, anytime and anywhere.
[product_additional_information]
Delivery Times for the Republic Of Ireland:
| Day | Time(after ordering) |
| --- | --- |
| Monday to Friday | Up to 2 days |
| Weekend & Bank Holidays | Up to 3-4 days |
Delivery Costs:
All orders* €50.00 or over (excl VAT) are delivered free. For orders below this, a delivery charge of €6.00 (excl VAT) will be added.
Delivery Times for Europe(Outside of Ireland):
Please note that the customer whose shipping address is outside of Ireland requires to pay extra charges based on the market shipping rates provided by the third-party courier.
Western Hygiene Supplies LTD reserves the right to refuse/cancel any order. Western Hygiene Supplies LTD at its sole discretion may cancel any order(s):
If it suspects a fraudulent transaction, or 
For any reason outside the control of the Western Hygiene Supplies LTD including causes for delivery related logistical difficulties. 
For any refund/cancellation, please contact the customer support number below. Please follow these steps:
Call the number +353-1800 505 555 from Monday to Friday between 10:00 to 17:00.
Quote the order Id to Customer Support .
Customer Support will answer all your queries and explain the whole refund/cancellation process.
For more information, please click here.