Sale!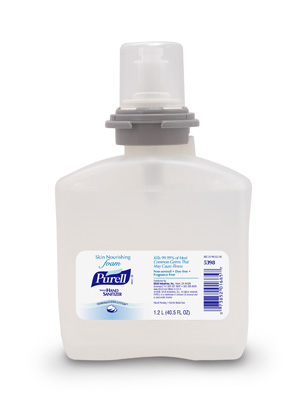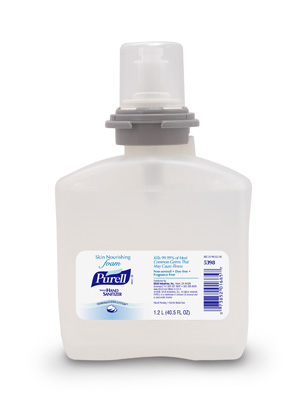 PURELL® Advanced Hygienic Hand Sanitising Foam (TFX™/ 2 x 1200mL)
PURELL® Ultimate Protection with Advanced Hygienic Hand Sanitising Foam - Effective against Coronavirus, Moisturising Formula, TFX™/1200mL Size, Compatible with Dispensers, and Skin Health Focus.
PURELL® Advanced Hygienic Hand Sanitising Foam is the ultimate hygiene solution in the current scenario. It is proven Effective against Coronavirus, has a Moisturising Formula to keep skin healthy, comes in a TFX™/1200mL Size for extended use, is Compatible with PURELL TFX™ 1200mL Dispensers, and has a strong focus on Skin Health. This hand sanitising foam ensures the highest quality and durability. Its moisturising formula provides a dual benefit of sanitising and skin care, making it a staple in every hygiene-conscious household or institution. Our product is designed for easy use with PURELL TFX™ 1200mL Dispensers and ensures hands are not just sanitised but also moisturised. PURELL® Advanced Hygienic Hand Sanitising Foam is suitable for all age ranges and is a must-have in today's environment.
Coronavirus Efficacy: PURELL® Hand Sanitising Foam is proven effective against Coronavirus, ensuring maximum protection during these times.
Moisturising Formula: Not just sanitising, but also includes moisturisers to keep skin healthy and prevent dryness from frequent use.
TFX™/1200mL Size: Generously sized for extended use, ensuring you're always protected.
Dispenser Compatibility: Specifically designed to be compatible with PURELL TFX™ 1200mL Dispensers for easy and efficient use.
Skin Health Focus: Beyond sanitising, it prioritises skin health, ensuring hands are cared for with every use.
Western Hygiene Quality: Trust in a brand that's a market leader in hygiene and healthcare solutions.
Easy Refill: Designed for hassle-free refills, ensuring uninterrupted hygiene maintenance.
Search Terms:
PURELL® hand sanitiser, coronavirus hand protection, moisturising hand sanitiser, TFX™/1200mL sanitiser, foam hand sanitiser, Western Hygiene products, hand hygiene, skin-friendly sanitiser, large size sanitiser, sanitiser refill, professional hand sanitiser, healthcare sanitiser, skin care and sanitising, dispenser compatible sanitiser, effective hand sanitising, hand protection, premium sanitiser, sanitiser for all, daily sanitising solution.
Target Audience:
PURELL® Advanced Hygienic Hand Sanitising Foam is ideal for individuals prioritising hygiene and skin health, such as healthcare professionals, families, and institutions. Intended Use: Daily hand sanitising in homes, hospitals, offices, and public spaces to ensure protection against viruses and bacteria.
Attributes:
Effective sanitising
Skin moisturising
Foam consistency
Large size for extended use
Dispenser compatibility
Trusted brand quality
Suitable for all age ranges.
| | |
| --- | --- |
| Weight | 1360 g |
| Product Type | |
| Volume | 1200ml |
| Products Per Case | |
| Color | Transparent |
| Ingredients | Ethyl Alcohol 700mL/L, Aqua, Isopropyl Alcohol, Caprylyl Glycol, Glycerin, Isopropyl Myristate, Tocopheryl Acetate, Acrylates/C10-30 Alkyl Acrylate Crosspolymer, Aminomethyl Propanol |
| Unit Barcode | |
| Barcode | |
| Biocide | Yes |
| Product Format | Hand Sanitising Foam,Refill |
| Properties | Antimicrobial,Compatible with latex and nitrile gloves,Food safe,Solvent-free,Clear,#Silicone Free#,#Use without water |
| Dispenser Type | |
Delivery Times for the Republic Of Ireland:
| Day | Time(after ordering) |
| --- | --- |
| Monday to Friday | Up to 2 days |
| Weekend & Bank Holidays | Up to 3-4 days |
Delivery Costs:
All orders* €50.00 or over (excl VAT) are delivered free. For orders below this, a delivery charge of €6.00 (excl VAT) will be added.
Delivery Times for Europe(Outside of Ireland):
Please note that the customer whose shipping address is outside of Ireland requires to pay extra charges based on the market shipping rates provided by the third-party courier.
Western Hygiene Supplies LTD reserves the right to refuse/cancel any order. Western Hygiene Supplies LTD at its sole discretion may cancel any order(s):
If it suspects a fraudulent transaction, or 
For any reason outside the control of the Western Hygiene Supplies LTD including causes for delivery related logistical difficulties. 
For any refund/cancellation, please contact the customer support number below. Please follow these steps:
Call the number +353-1800 505 555 from Monday to Friday between 10:00 to 17:00.
Quote the order Id to Customer Support .
Customer Support will answer all your queries and explain the whole refund/cancellation process.
For more information, please click here.