Sale!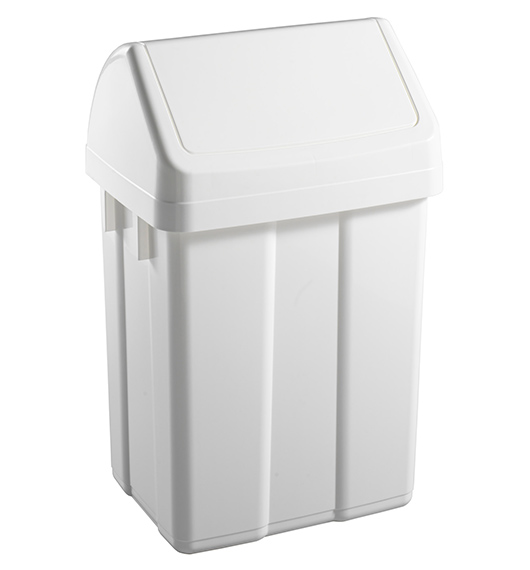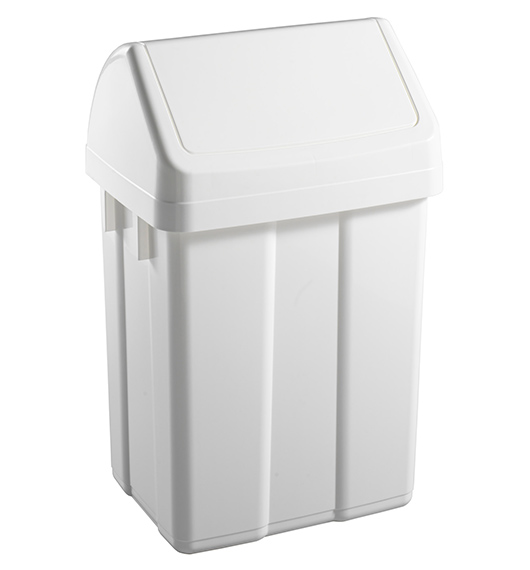 TTS® 12L Bathroom Waste Bin White, Plastic, Swing Lid- Eco-Friendly & Hygienic – Made with 97% Recycled Plastic
Eco-friendly- 12L Bathroom Waste Bin White made with 97 % Recyclable plastic. Size - 200x230x400 mm. Swinging lid to drop off easily the garbage. Removable lid to empty for easy cleaning.
TTS® 12L Bathroom Waste Bin
A stylish and eco-friendly solution for waste management in any environment. Featuring a coloured swing lid and made with 97% certified recycled plastic, this bin is perfect for those looking to make a conscious choice without sacrificing style or convenience. The colour-coded lids make separate waste collection easy and efficient, making it an ideal choice for your bathroom or other small spaces.
5 Benefits:
Eco-Friendly: Made from 97% recycled plastic (certified PSV - Plastic Second Life), this bathroom waste bin is an environmentally responsible choice that helps reduce plastic waste.
Colour-Coded Lids: The colour-coded swing lids make separate waste collection simple and efficient, ideal for creating waste collection zones.
Discreet Design: The swing lid design prevents visibility of the bin's contents, ensuring a clean and neat appearance.
Easy to Maintain: Smooth surfaces and an absence of cavities make cleaning a breeze, ensuring a high level of hygiene.
Versatile Use: Suitable for various settings, including bathrooms, offices, and other small spaces.
Pros & Cons:
Eco-friendly and sustainable materials
Colour-coded swing lids for efficient waste separation
Discreet design for a clean appearance
Easy to maintain and clean
Versatile use across various settings
Limited to a 12L capacity
What Customers Will Get: When you purchase the TTS® 12L Bathroom Waste Bin, you'll receive:
1 x TTS® 12L Bathroom Waste Bin with coloured swing lid
We recommend using 50x60 cm standard garbage bags for this waste bin.
How to Use Instructions:
Place the TTS® 12L Bathroom Waste Bin in your desired location, ensuring easy access for waste disposal.
Install a 50x60 cm standard garbage bag in the 12L bin.
Use the colour-coded lids to designate separate waste collection areas, if desired.
Dispose of waste in the bin as needed. The swing lid will prevent the visibility of the bin's contents.
When the bin is complete, remove the garbage bag, dispose of it according to local regulations, and replace it with a new one.
Upgrade your waste management system with the
TTS
® 12L Bathroom Waste Bin, the eco-friendly and hygienic solution for a cleaner and more efficient bathroom. Order yours today! The product Compatible with:
[product_additional_information]
Delivery Times for the Republic Of Ireland:
| Day | Time(after ordering) |
| --- | --- |
| Monday to Friday | Up to 2 days |
| Weekend & Bank Holidays | Up to 3-4 days |
Delivery Costs:
All orders* €50.00 or over (excl VAT) are delivered free. For orders below this, a delivery charge of €6.00 (excl VAT) will be added.
Delivery Times for Europe(Outside of Ireland):
Please note that the customer whose shipping address is outside of Ireland requires to pay extra charges based on the market shipping rates provided by the third-party courier.
Western Hygiene Supplies LTD reserves the right to refuse/cancel any order. Western Hygiene Supplies LTD at its sole discretion may cancel any order(s):
If it suspects a fraudulent transaction, or 
For any reason outside the control of the Western Hygiene Supplies LTD including causes for delivery related logistical difficulties. 
For any refund/cancellation, please contact the customer support number below. Please follow these steps:
Call the number +353-1800 505 555 from Monday to Friday between 10:00 to 17:00.
Quote the order Id to Customer Support .
Customer Support will answer all your queries and explain the whole refund/cancellation process.
For more information, please click here.